Can a purchase be saved into my Ravelry library?
Yes, the main 'add to basket' button takes you to a Ravelry shopping basket. Once you have been through the checkout you will be taken to Ravelry. If you are signed in there will be a tick box giving you the option to add your pattern to your Ravelry library. If you are not signed in you will be given the option to sign in. On this page there will also be a link to download the PDF.
Alternatively you can also choose to purchase your pattern through Etsy, the pattern will be stored on your Etsy purchases page instead of Ravelry.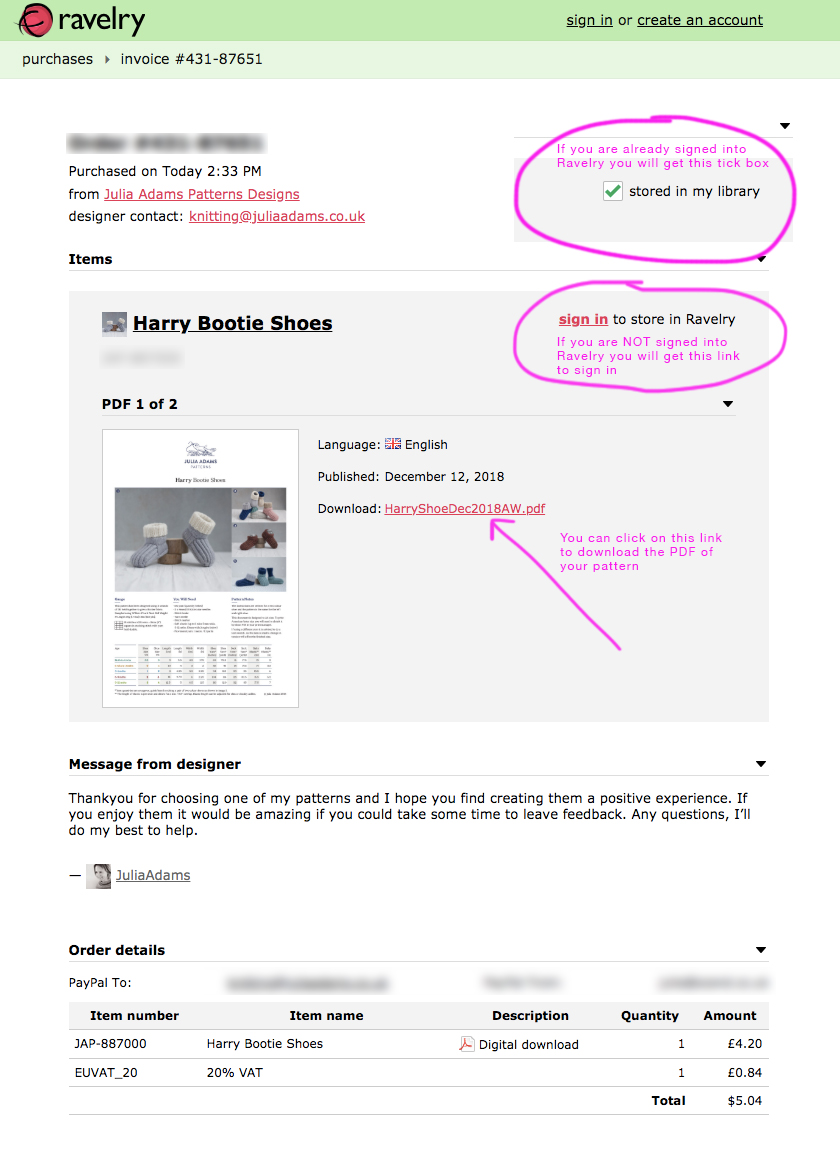 Are Julia Adams Pattern available in any other languages?
At the moment my patterns are only available in English. I hope to have my patterns translated into other languages later this year.
How does digital downloading work?
When you have completed your order you will receive a link to download the pattern and also an email with a link to the pattern.
Will I be able to get support if I'm struggling with a pattern?
All the patterns have detailed, step by step photo instructions and photo stitch guides. You will also find additional articles and videos in my tutorial section. If you need extra support please contact knitting@juliaadams.co.uk
I'm not sure what size to knit?
Baby feet change size a lot in the first 12 months which is why I have so many size options. Each size is designed to fit the upper age of the age group. So a 6 weeks to 3 months shoe is based on a 3 month sized foot and the shoe is in perfect proportion to the baby's body, allowing free movement of the feet and legs. Just like adults, baby feet come in different lengths and widths so these sizes are only a general guide.
The sizes available change slightly depending on the pattern but most patterns have the following:
Birth to 6 weeks (suitable for a baby up to approximately 10lb / 4.5kg)
6 weeks to 3 months
3 to 6 months
6 to 9 months
9 to 12 months.
A few of my patterns also have 'Up to 6lb / 2.7kg'. This size is aimed at pre-term babies, although they will fit a small, full-term newborn.
If you are knitting for a gift I recommend knitting the 3 to 6 months, this is the common age that babies transition out of baby grows and into gorgeous little outfits which need gorgeous shoes!
I'm a beginner, which is the easiest pattern?
If you are fairly new to knitting, I recommend starting with the Noah shoe. The first section is knitted on straight needles which you may find easier. There is a little bit of knitting in the round in the middle section of the foot.
For all the patterns there are step by step photos so you know what each stage should look like. If you find you need help, please reach out by emailing knitting@juliaadams.co.uk. I'm more than happy to walk you through each step and I have video demonstrations for many steps. In time these will be available in my tutorial section, I'm just mastering the technical side of video editing.
The Tom shoe is also fairly simple, it is similar in design to the Noah shoe but the construction is slightly different. It is knitted in the round from the beginning, much like a sock. It also has a few extra details.
I would like to use a different yarn to the one suggested?
Choosing you own yarn and colour is part of the fun of knitting. The patterns all have a suggested yarn but if you would like to subsitute for an alternative yarn I recommend trying Yarn Sub. Put the suggested yarn in the search bar and their database will suggest the most apporpriate alternatives based on required weight/length, guage, needle size etc.